Three kinds of people are needed to fight disease
Scientific personnel, including doctors and their staffs
Patients willing to be testing grounds for new biochemicial weapons against disease
People to donate the money we need to fight disease
Just like the sacrifices folks made during World War II!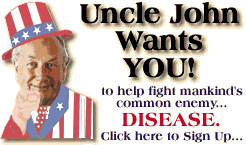 Join Now!
Join the William Harvey Army fighting disease by making a monthly contribution on your credit card. You will get a tax deduction and a cap signifying your rank as General, Colonel, Major, Captain, Lieutenant, Seargent, Corporal, or Private.
Rank is earned by donating yourself, or getting others to donate to the cause of fighting disease.
All donations are tax deductible and will be acknowledged with a receipt.
Monthly credit card charges may be cancelled at any time by emailing webmaster@pphcure.org or calling 202-483-4033.